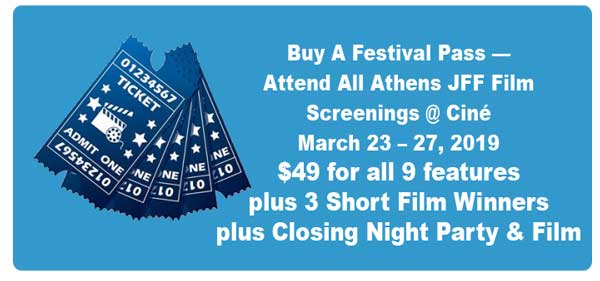 Save Up to $39* Over Individual Tickets — Buy A Festival Pass!


$49.00
• Includes All 9 Festival Feature Film Screenings, March 23-27, 2019 at substantial savings — and includes our Opening Night Film, "The Exception," at  Ciné.**
• Includes our Shorts Competition Screening and Awards. 
• Celebrate the Festival's Closing Night with noshes, music, and an open bar at our Closing Night Party @ Ciné Lab. Music by Erik Sootes >
• Screening of our highly acclaimed Closing Night Film "An Act of Defiance," winner of Best Film at the 2017 UK Jewish Film Festival.
*Single tickets will be sold 15 minutes prior to showtime, subject to availability.
Ciné prices without Festival Pass: $7.50 students with ID • $9.75 regular price
**Festival Pass patrons will be seated at the Opening Night Film after Gala patrons have been seated.
Your 2019 Festival pass includes all 9 Feature Films, 3 Shorts Winners & Closing Night Party!