Thanks to the fantastic support Athens JFF received from its supporters, patrons, advertisers and lovers of quality film from the Athens community and beyond, Festival Passes for this year's festival have sold out for the second year in a row.
(Individual movie tickets are available at Ciné's box office 15 minutes prior to the film, at standard Ciné prices & subject to availability.)
FESTIVAL PASSES & OPENING NIGHT CELEBRATION TICKETS
SOLD MARCH 11 OR LATER WILL NOT BE MAILED.
You can pick up your passes or tickets at their respective locations.
If you have any questions, please contact us.
Save On Individual Tickets for 2017 Festival!
Buy a 2017 Festival Pass
and Enjoy All 8 Athens JFF Screenings @ Ciné, March 19-21, 2017.
This includes Our Closing Night Party With Noshes
and the Screenings of This Year's 3 Short Film Winners,
as well as our Closing Night Film — "For the Love of Spock."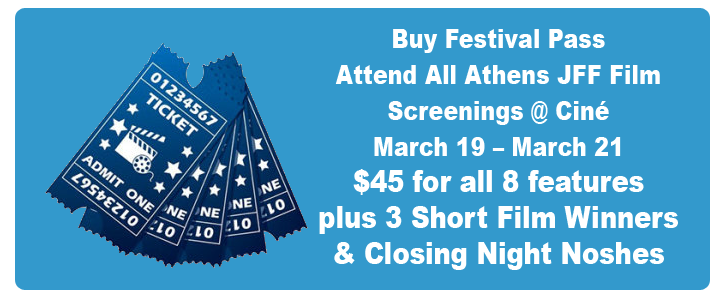 A Festival Pass Admits You to All The Screenings @ Ciné Below:
Sunday, March 19
Abulele
On the Map
A Blind Hero
Firebirds
Monday, March 20
The Kind Words
Fever at Dawn
Peter the Third
Tuesday, March 21
The 3 Winners of This Year's
AJFF Shorts Competition
Closing Night Reception
with Noshes @ Ciné Lab
Closing Night Feature, For the Love of Spock.