Thanks to the fantastic support Athens JFF received from its supporters, patrons, advertisers and lovers of quality film from the Athens community and beyond, Festival Passes for the 2017 festival sold out for the second year in a row.
✡ The 2018 festival will commemorate our 10th Anniversary ✡
Check back here as we update the details for this very special event, or you can sign up if you we would like to be notified when the details of the 2018 Festival Pass become available.
Save On Individual Tickets for 2017 Festival!
Buy a 2017 Festival Pass
and Enjoy All 8 Athens JFF Screenings @ Ciné, March 19-21, 2017.
This includes Our Closing Night Party With Noshes
and the Screenings of This Year's 3 Short Film Winners,
as well as our Closing Night Film — "For the Love of Spock."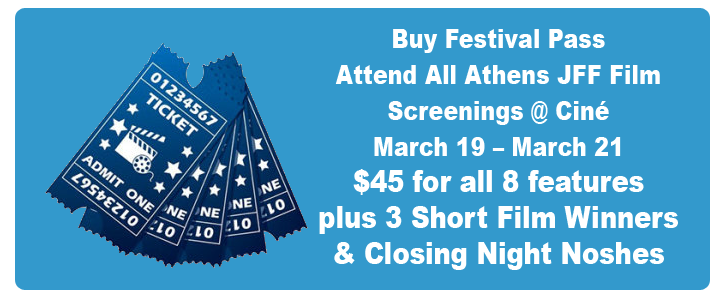 A Festival Pass Admits You to All The Screenings @ Ciné Below:
Sunday, March 19
Abulele
On the Map
A Blind Hero
Firebirds
Monday, March 20
The Kind Words
Fever at Dawn
Peter the Third
Tuesday, March 21
The 3 Winners of This Year's
AJFF Shorts Competition
Closing Night Reception
with Noshes @ Ciné Lab
Closing Night Feature, For the Love of Spock.