Thanks to the fantastic support Athens JFF received from its supporters, patrons, advertisers and lovers of quality film from the Athens community and beyond, Festival Passes for the 2017 festival sold out for the second year in a row.
✡ The 2018 festival
will commemorate our 10th Anniversary ✡
• Festival Passes for the celebration of our first decade of bringing quality and substantial movies from around the world to Athens, Georgia are still only $45.00. They'll be up for online sale soon.
• While you're here, you will also be able to pick up tickets for our 10th Gala Opening Night festivities.
• For those who are not purchasing a Festival Pass this year, you're still welcome to join us at our Closing Night Party for only $10.00!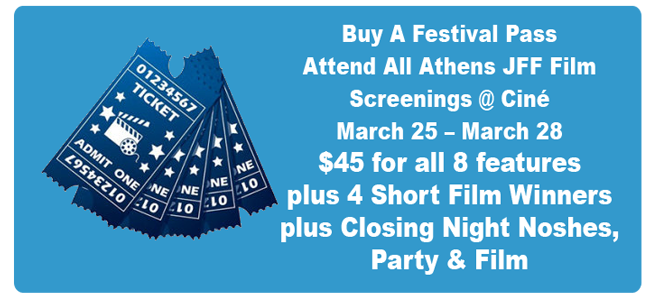 Save On Individual Tickets for the 2018 Festival!
Buy a 2018 Festival Pass $45.00
• Attend All 8 Athens JFF Screenings @ Ciné, March 25-28, 2018 at substantial savings
• Attend our great highly acclaimed Closing Night Film "Body and Soul"
• Celebrate our Tenth Anniversary Festival finale by attending our Closing Night Party @ Hotel Indigo With Noshes
If you don't take advantage of the great savings offered by buying a Festival Pass, you are still welcome to join us at the Closing Night Party for $10.00, cash or check.
Also note that individual movie tickets will be available at standard ticket prices at the Ciné Box office, beginning 15 minutes before show time, and subject to availability.