2017 Closing Night Screenings and Reception
The evening's events will begin with the screenings—and awards presentations—of the three winners of the 2017 Short Film Competition, followed by hors d'oeuvres and live music in the Ciné.
The closing party includes noshes provided by festival sponsors Mama's Boy and Marti's at Midday, and music by the band "More Popular Than Klaatu" with Timi Conley, Bryan Poole, Peter Alvanos and Michael Guthrie.
We will conclude the festival's finale with the screening of "For The Love Of Spock," a documentary that comprises Adam Nimoy's loving ode to his father Leonard Nimoy, and takes us from the family's working class Jewish roots to Nimoy's unlikely rise into icon status as Star Trek fan favorite Spock.
The film raised over $650K on Kickstarter and was the subject of an episode of "The Big Bang Theory".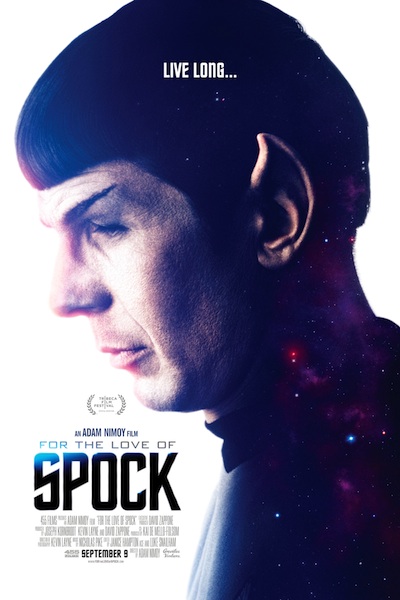 The Closing Night Screenings & Reception are included with your Festival Pass, along with the other 7 feature films being screened at Ciné.
BUY YOUR PASS NOW AND SAVE!
(Individual movie tickets are available at Ciné's box office 15 minutes prior to the film, at standard Ciné prices & subject to availability.)
A one-of-a-kind documentary sure to unite trekkies worldwide, FOR THE LOVE OF SPOCK tells the life of Star Trek's Mr. Spock and the actor who played him, Leonard Nimoy, for nearly fifty years.
The film's focus began as a celebration of the fifty-year anniversary of Star Trek: The Original Series, but after Leonard passed away in February 2015, his son, director Adam Nimoy, was ready to tell another story: his personal experience growing up with Leonard and Spock. Adam not only shares details on the creation, volution, and universal impact of Mr. Spock, but also about the ups and downs of being the son of a TV icon.
FOR THE LOVE OF SPOCK is laden with never-before-seen footage and interviews of friends, family and colleagues that include William Shatner and the original Star Trek cast, Zachary Quinto and the new crew of the Starship Enterprise, filmmaker JJ Abrams and astrophysicist Neil deGrasse Tyson.
Director: Adam Nimoy
Genre: Documentary
Country: USA
Language(s): English
Running Time: 100 Minutes • 2016