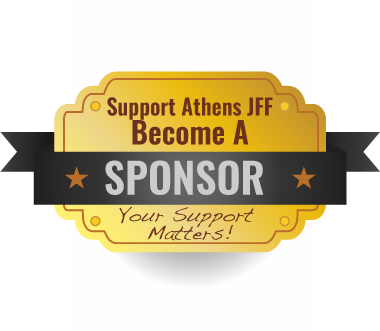 Sponsorships
Please fill out the information below and select the level of sponsorship you would like to purchase. All levels except Contributor, Supporter & Benefactor include an ad in the Festival's printed program.
All sponsors of any level—as well as advertisers—are also listed in text and/or with their company logo on our "Sponsors, Patrons & Donors" page.
In order to have your name and/or ad in the program, this form (and payment) must be received by Friday, February 7, 2020.
Also please note that all artwork for ads also must be submitted in print quality JPG or PDF format on or before February 7, 2020.
Email ad artwork to:
[email protected]
For more detailed information about our sponsorship levels, or to download a form that is fillable, savable, and printable with Acrobat Reader, please Click Here for the form.

Contributor
1 Festival Pass
Name Listed in Program
Name Listed on Website
Supporter
2 Festival Passes
Name Listed in Program
Name Listed on Website
Benefactor
1 Opening Night Gala Ticket
1 Opening Night Film Ticket
1 Festival Pass
Name Listed in Program
Name Listed on Website
Patron
2 Opening Night Gala Tickets
2 Opening Night Film Tickets
2 Festival Passes
1/4 Page B&W in Program
Name Listed on Website
Bronze
3 Opening Night Gala Tickets
3 Opening Night Film Tickets
3 Festival Passes
1/2 Page B&W in Program
Name Listed on Website
Silver
1 Film Sponsored
4 Opening Night Gala Tickets
4 Opening Night Film Tickets
4 Festival Passes
Full Page B&W in Program
Name Listed on Website
Gold
1 Film Sponsored
5 Opening Night Gala Tickets
5 Opening Night Films Tickets
5 Festival Passes
Full Page, Full Color in Program
Name Listed on Website
Diamond
2 Films Sponsored
6 Opening Night Gala Tickets
6 Opening Night Film Tickets
6 Festival Passes
Full Page, Full Color in Program
Name Listed on Website