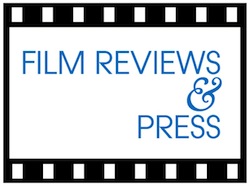 Reviews of 2017 Festival Feature Films
We have selected all our feature films for the 2017 festival.
We'll be compiling a selection of reviews of features exhibited in the 2017 festival, and adding them to this page as they become available.
"THE RED & BLACK" STORY—ATHENS JFF MORE THAN JUST FILMS (MORE…)
2017 Athens JFF Graces the Cover of Current Issue of "Flagpole"
Read Barbette Houser's Incisive Look at This Year's Festival

Athens Jewish Film Festival's own Barbette Houser, a keen observer of the local arts and culture scene, offers us a view of this year's festival through the lens of the rich contributions made to cinema by Jewish filmmakers, actors, writers and producers throughout it's history.
Be sure to read this insightful piece…
Although Festival Passes have sold out for the second year in a row, individual movie tickets are available at Ciné's box office 15 minutes prior to the film, at standard Ciné prices & subject to availability.
And there is still time to pick up tickets for our Opening Night Celebration. Tickets are available for the Opening Nght Party plus the Opening Night Film, "Moos" at Ciné, or purchase tickets for the opening party alone. Pick some up…
2017 Athens Jewish Film Festival Gets Nod from "Explore Georgia."
From "Explore Georgia's" Coverage of Statewide Film Festivals Deserving of Attention
Intimate & Awesome:
8 Film Festivals Worth the Trip:
From independent films to documentaries, these Georgia festivals specialize in spectacular cinema.
. . .
Athens Jewish Film Festival, March 18-21, 2017.
The Athens Jewish Film Festival brings quality Jewish films to Athens, Ga., including a variety of feature films, shorts and documentaries. This four-day event encourages the review, discussion and celebration of films of Jewish interest through a short film competition, conversation with visiting filmmakers and academics, as well as an Opening Night Celebration and a Closing Night Event.
See the entire list of festivals from "Explore Georgia.